We wanted to create a garden to be used by the family and also to be exciting in all four seasons.
We believe we have created something very special and it gives us pleasure to walk in our garden on every day of the year and also to share the delights with others.
We have derived immense pleasure from doing this huge project together. It is very satisfying to use so many skills, and to have done every task ourselves. We both had full time jobs until retirement from work in October 2009 and sometimes had to resort to using head torches or set up outdoor lights to work in the evenings!
What we did
In the first ten years we broke up clay, re-laid and extended paths and won the battle with weeds. In the last eighteen years we have totally re-landscaped and replanted.
Materials have included 15 tons York stone, 11 tons of garden soil, 15 tons of concreting sand and 80 cubic metres of forest bark – everything was brought down six garage steps! Large rocks have been added, straight lines made into curves. We built a chalet store, summerhouse, large wooden oriental pagoda, a smaller wooden Pagoda with water feature and laid more than 100 metres of paths. Five water features made by us include a fifty-four foot long rocky stream.
We have become increasingly skilled in working with York stone in paving and other garden features such as the garden streams. The large stream was built York stone, concrete and reinforcing iron and has a 3000 gallons per hour pump and a reservoir holding 75 gallons of water.
The oriental pagoda is a major focal point for the whole garden and provides welcome shade in the summer. Together with the jungle, with its palms, bamboo and banana, it creates a screen and divides the garden, making it seem much larger. Other wooden structures in the garden, such as the seating and the pergola, are stained the same dark brown as the pagoda and they also take on a role as focal points. We chose not to put climbing plants on the pergola and this accentuates its architectural features.
Red oriental ornaments come into their own in winter when most red foliage is absent and they also act as focal points amongst the plants.
What the Walsall garden was like in 1982
180 ft x 55 ft south-facing, gentle downward slope. 6 ft fence on one side, shade from large trees on two neighbouring sides. Some of the York stone paths were broken up and distorted by tree roots. A number of York stone rocks were completely submerged in soil. There were many large, quite rapid growing. dark green conifers, a weed ridden vegetable plot and 16 overgrown fruit trees. The lawn was square and shaded. The ground was hard due to clay soil and was slightly acid.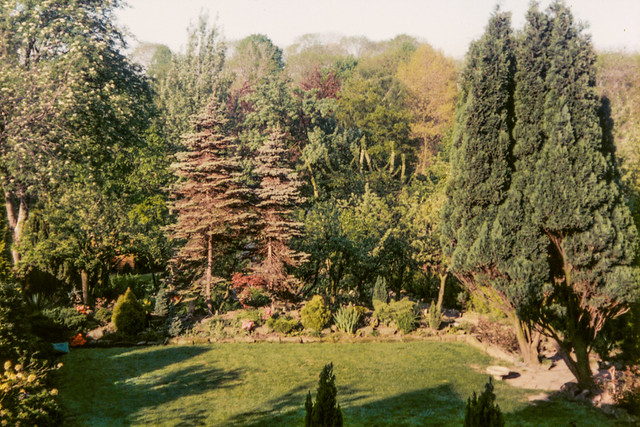 © All Rights Reserved
Please do not download our photo images from this website to use for publication or any commercial reason without our permission.

Images may not be copied, reproduced, published or distributed in any medium without the expressed written permission of the copyright holder.