There seems to be no agreed universal definition of a tree. However, there is some general agreement that a tree it is
a woody perennial plant, typically having a single stem or trunk growing to a considerable height and bearing lateral branches at some distance from the ground

a woody perennial plant having a main trunk and usually a distinct crown

a plant or shrub resembling a tree in form or size

a thing that has a branching structure resembling that of a tree

any large woody perennial plant with a distinct trunk giving rise to branches or leaves at some distance from the ground.
Trees can give a garden its framework, and because they tend to grow into large plants they often will give much beauty for relatively little effort.
shade

atmosphere


privacy and screening

habitat for birds and other wildlife
Some have blossom, bark, fruit and colourful foliage.
Some have more than one season of interest.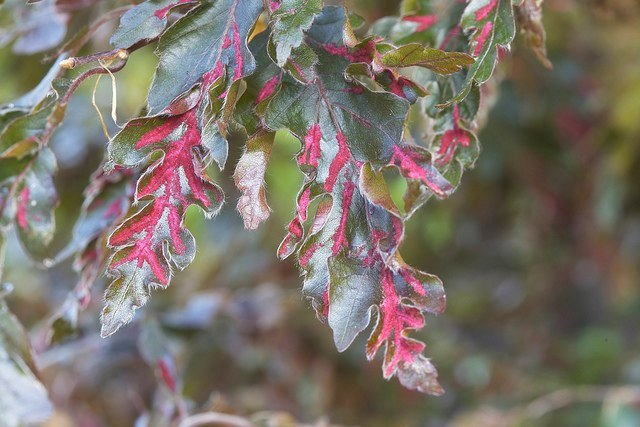 Juvenile leaves and beechnut Purple Fern Leaf Beech Fagus sylvatica (Rohanii European Beech )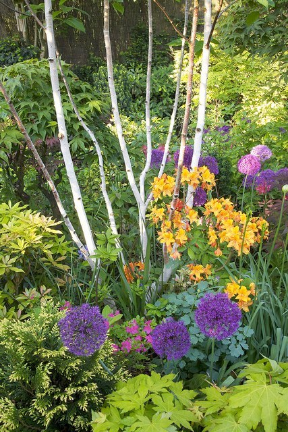 Multi-stemmed Betula jacquemontii and late spring flowers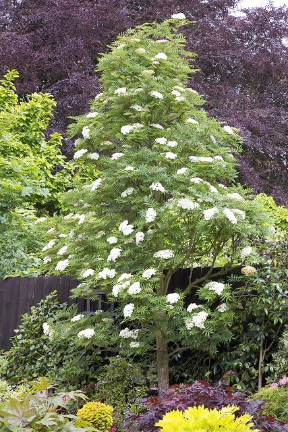 Chinese Scarlet Rowan ( Sorbus Commixta "Embley") in spring.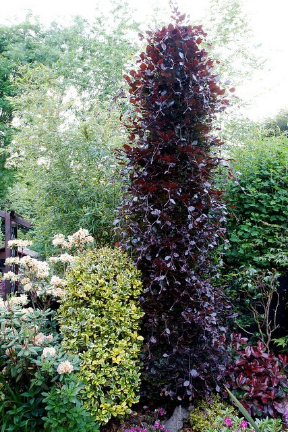 Fagus Sylvatica (Beech) 'Dawyck Purple'.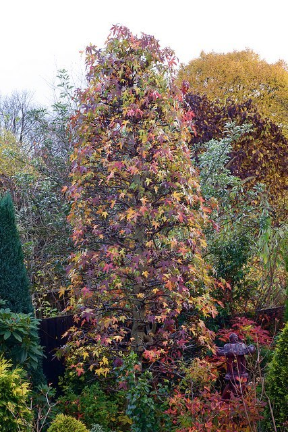 Liquidambar in autumn.

The is a relatively rare, architectural tree with striking, deep purple foliage. Initially in spring the foliage is red before turning deep purple. In autumn the leaves turn a copper colour.

We planted our fastigiate Beech tree in 1990 and in recent years we have maintained it to a height of around 3.5 m (11ft) and width 60cm (2ft). 'Dawyck Purple' Beech would normally grow to 10m (33ft) in height x 3m (10ft) in width in 20 years and, at full maturity, up to 20m (66ft) in height x 6m (20ft) in width!
Later autumn colour change in leaves of Fagus Sylvatica (Beech) 'Dawyck Purple'.
In addition to acers and japanese maples, we have included the following trees in our re-landscaped garden:
Betula Utilis Jacquemontii Multistemmed (Himalayan Birch or Silver Birch)


Corkscrew Hazel (Corylus 'Contorta')


Cornus Florida forma 'Rubra' (Pink Dogwood)


Cytisus Battandieri (Pineapple Broom Tree)


Eriobotrya japonica 'Tanaka' (Loquat, Nispero, Japanese Medlar, Japanese Plum)


Fagus Sylvatica (Beech) 'Dawyck Purple'


Fagus Sylvatica 'Rohanii' (Purple Fern Leaf Beech)



Liquidambar styraciflua (sweet gum tree)



Magnolia Grandiflora (Southern Magnolia)


Magnolia x Loebneri Leonard Messel


Magnolia stellata 'Rosea'


Magnolia 'Susan' (M. liliiflora 'Nigra' x M. stellata 'Rosea')


Magnolia tripetala (umbrella tree)



Prunus Serrula 'Tibetica' (Tibetan Cherry)



Sorbus Cashmiriana (Kashmir Rowan)


Sorbus Commixta 'Embley' (Chinese Scarlet Rowan)



Sorbus hupehensis 'Pink Pagoda' Sorbus 'Joseph Rock
© All Rights Reserved
Please do not download our photo images from this website to use for publication or any commercial reason without our permission.

Images may not be copied, reproduced, published or distributed in any medium without the expressed written permission of the copyright holder.